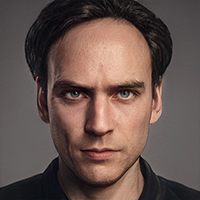 Raitis Jānis Raitums
Digital artist.
"My artistic mission is to awaken limitless imagination and multidimensional presence."
Welcome to the "Dimension Effect" digital mirage.
Dimensional Effect is Mood Cards with beings from fantasy dimensions. Exhibition consists of thirty seven [+] tokenised video artworks. Each work of art is created with deep respect and love for the being shown in the mirage. Art is created in collaboration with several artificial intellects. Artbreeder, Runway, Gigapixel, Luminar, Deep Dream Generator, Dreamscope, etc. These NFTs are rare collectibles so make sure you catch one.
We offer a collection of high-quality original works of art that exist in a single copy on Ethereum's blockchain. By purchasing tokens from this collection, you acquire all rights to use the contents of the purchased token for commercial or non-commercial purposes. This right also applies to former NFT holders. And you can download additional content. High-quality Printredy clean images of the acquired NFT artwork. Downloadable content is without frame around the artwork, title and symbol. This content is available to the token holder and can be accessed at this link:
Claim your NFT token and get more ART [+].
>
RoadMap
2022 q1 Mint 37 Mirages/AudioVideoArtworks as "Dimensional Effect" colection. 2022 q2 Create a fully automated copyright claim with web3 NFT artwork authentication. All works of art in the collection include added value - they can be used to access the image sequence in .png format. These are 200+ artwork video footage that can be used in both commercial and non-commercial ways. 2022 q3 Create a publicity and discott channel where the artist will announce the news of the collection. The owner of the artwork will be able to meet to change or make offers for the copyright of another work in the collection. The copyright in the content of a work of art is acquired by each individual who has held or holds an NFT token with the specific work of art. 2022 q4 Create an explanatory video showing how to use the added value of tokens. And clame copyright of artwork with NFT. 2022 q5 The author reveals his experience and project storry. Which will increase the value of the collection! More news about this project will follow on this website.
Dimensional Effect
It is a beautiful video art with a vivid emotional story. token itself acts as a key with which the owner can download a high-resolution artwork sequence. And additional content that was created during the creation of the original artwork.